---
Torsten Sannamo and the POW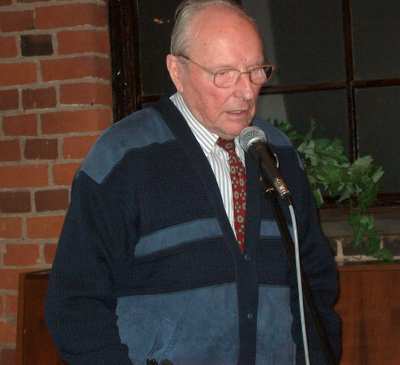 During the war, Torsten Sannamo served in the Bomber Squadron 42 as a Machine Gunner/Radist.
See also the presentation on the FuG-radio Sannamo gave in 2002.
Sannamo apologizes the shaking of his hands and explains...
On a photographing mission for example, when you ran from a fighter, you nose-dived from 7000 meters right down to 3000, that's where the pilot began to pull up so that the plane leveled off at one thousand meter. The G forces were so strong that blood came from my ears and nose. There were no belts or other protective equipment to keep your pancreas in place.
My name is Torsti Sannamo. My last name used to be Skyt, that's Swedish for shooter. When I went to the psychic tests in Helsinki in '42, one Major in there joked that I shouldn't really take the test, I already was a certified shooter. It also helped that I had been a boy scout, even a co-leader, so I was accepted in. They asked which training I wanted, pilot or gunner/radist.
I asked which one was the quicker way to the front. They told me that the gunnery course took half a year, and the pilot course one year. So I chose gunnery.
I'll tell you a true story now, one that should be news to many, even to you veterans sitting here.
It began in May 23, '43, when four planes from our flight were ordered to bomb an enemy operations centre north of Maaselkä. There were supposed to be, among others, a training centre, storages and lots of AA in there.
(Editor's note: four Blenheims took off from Värtsilä at 8:10 PM to bomb the Sumeri base north of Maaselkä. The formation was led by Lt Kangas, the other planes were piloted by Staff Sergeant Immonen and Sergeants Kalamo and Leppä. Source: Kohtalokkaat Lennot.)
We took off at 2000 hours. I was in one of the planes, Akke was the navigator and Kalervo the pilot. We ascended to 1100 meters and flew, not heading directly at the target but at an angle until we were six minutes away, then made the turn. That was to fool the enemy AA.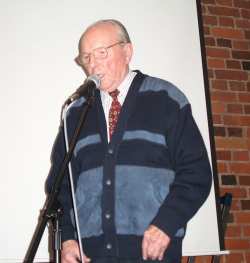 We were successful enough, so that we had already dropped our bombs when the machine guns and the light AAA opened fire. I was in the turret and used the machine gun on MG placements. I saw the plane on the right get hit by an AA shell. It began to roll on its side and go down at the forest edge. Then I couldn't see it any longer, we had agreed that after bombing all planes go low to make it harder for AA to aim. It's easier to spot fighters from low, too.
So after returning home, we had no idea where the planes had ended up. All we could report to the families that they had fallen to the enemy side. Even the recon plane that went to see the site next day couldn't see any track of a Blenheim.
Kohtalokkaat Lennot (Fateful Flights), case #242:
BL-150, Lentolaivue 42

May 23, 1943 on 21:00 the BL-150, damaged by anti-aircraft fire, had to land on enemy side at the Maaselkä direction in East Carelia. Pilot and navigator disappeared, machine gunner was taken as prisoner.
Pilot: Sgt Kalamo, Yrjö.
Navigator: 2nd Lt Valio, Matti.
Machine gunner: Ssgt Taivainen, Väinö.
Five months later a man comes through the front lines. He calls out to the Finns on guard not to shoot, he's a Finnish pilot. He calls it three times, before he's taken into custody and interviewed.
"Our plane was hit by tough AA fire, at about 21:00. We made a forced landing on a swamp on enemy side. I was in the plane piloted by Yrjö, Matti was the navigator. We gout out of the plane unharmed and attempted to return to our own side.

The Russkies were soon on our tracks, and we were separated in the confusion. I don't know what happened to Yrjö and Matti, but I decided to surrender. I had only a pistol, I couldn't keep the enemy away for long with it.

After a couple of days of hellish interrogations, I was taken to the prison camp at Shinaja. There must have been over a hundred of Finns there. I was kept isolated most of the time, I had little contact with the other prisoners. I saw none of my fellow pilots. I had few choices then. I guess everybody tries to stay alive, no matter what the situation. I was supposed to be taken beyond the Urals to a big camp, with prisoners from many countries, and the conditions were said to be horrible.

Then I heard that I could sell myself here. Go to spy school. I thought that would be my salvation. I reported willing and was accepted, and that training would take me back to Finland. I acted sincere in turning my coat, and so I was given an important mission to recon the front lines. Now I want to be taken to high officers. I will reveal everything to them, nothing matters to me any more. All I want is to see my wife and children."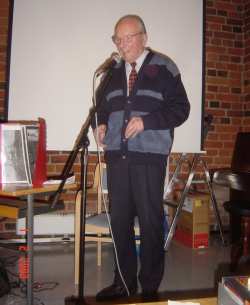 The opinions on this are ambiguous. After all, he was sent back to Finland as a saboteur. And there are two reasons I've been thinking of this case.

After the war I had a workmate, a fighter pilot called Ahti, who used to fly the Brewster from the Mensuvaara base. He was shot down in the beginning of this summer war (the great push at the end of the Continuation War in '44). His fellow pilots watched his plane go down in the forest and burst in fire, but didn't see him bailing out at the last moment.

His chute opened at 50 meters and its pull was enough to save him from hitting the trees. But he was left dangling from a pine.

I guess the pilots were important enough to the enemy too, that they didn't shoot him up there but helped him down. His left arm was badly hurt, though, it bothered him quite a lot after the war too. He spent a year and a half at a prison camp, before he was let back to Finland through Hanko in October '45.

A funny thing had happened in between. Pilots who had fallen behind the lines were given funeral services already. That had happened to Ahti too. His bride had written a beautiful verse in his memory. Then they got married. Once, when the wife had gotten very angry at him for some reason, he had taken the verse from his wallet and asked, what now, isn't this valid any more?

I've been thinking of these two men of different sorts. One had seen a way to escape back home by volunteering as a saboteur and then reporting. But he had given his oath to the enemy, and breaking that oath meant death.

For that reason he was sent to Sweden with his family. He lived there for a while, but spent some 4-5 years in South America. Or that's what I've been told, I haven't seen him since we took off at Värtsilä.

But I've been pondering if we always consider all we do. He had to live the rest of his life with kind of a straitjacket, in fear. But Ahti, who spent a year and a half in the prison camp, had had time to think deep thoughts there. He was kind of a philosopher.

Two different people. One with quick temper, the other a philosopher. Väinö, the temperamentic one, made a quick decision, and the result was what it was.

I don't know what you'd think, if you had to say which one made the right choice, or the less wrong. The one, who endured it and then came back, or the one who wanted to get it over with?

Thank you.

From the book by Sannamo:

I'm from Helsinki, and remember the slang from childhood. Once, in a Christmas party in Äänislinna, I made a playful speech in slang:
"Mä ruveen nyt dunskaa brevua sulle kun mutsi ei flippaa. Mua flutaa kundien kanssa studaa ja mun fragat menee söhliks."
(sl. "I'm starting a letter to you now, cos mom doesn't write. I hate being afraid here with the guys, and my battles go wrong.")
They thought I was a Swede and didn't clap at all. By the way, I'm writing a book called "Stadin kundi flygaajana rigussa" (sl. "City guy flying in war").
---
Credits
The stories and presentations on this page were originally told in the Finnish Virtual Pilot Association's Urban Blitz 2003 meeting in Tampere on February 1, 2003.
Recording: Jukka O. Kauppinen "Grendel / VLeLv Icebreakers"
Transcription of the Torsten Sannamo presentation: Janne "Netfly" Kallela
Copyright VLeLv Icebreakers / Virtuaalilentäjät r.y. / Finnish Virtual Pilots Association 2003.