---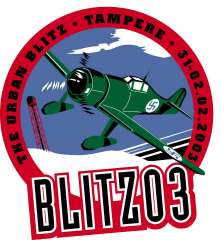 Urban Blitz 2003
Tampere 30. January-2. February 2003
Urban Blitz on suomalaisten virtuaalilentäjien talvitapaaminen. Järjestetään Mosquito Meetingistä poiketen urbaaneissa olosuhteissa, samojen ilmailuun ja tietokoneisiin vinksahtaneiden sällien toimesta.
Tapahtuman järjestänä toimii Virtuaalilentäjät ry, pääasiallisina vetureina VirtuaaliLentoLaivue Moosefly ja VirtuaaliLentoLaivue Icebreakers. Tapahtuma järjestettiin kuudennen kerran.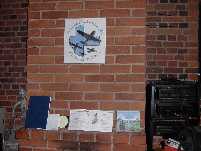 The famous Urban Blitz, the winter edition of the Nordic Euro Convention Mosquito Meeting. Arranged in urban conditions, with modern computers by positively insane Virtual Pilots.
The traditional 6th annual Blitz was arranged by VLeLv Moosefly and VLeLv ICEBREAKERS squadrons, in sake of Virtuaalilentäjät / Finnish Virtual Pilots Association.
When Urban Blitz 2002 started we were afraid that not everyone will fit in. When 2003 was approaching we KNEW that not everyone who wants to come can fit inside. So we had to be quite strict this time on the arrivals, you could only enter if you was member of the Association or member of known online squadron. Even now the walls were stretching when everyone was in!
Videos
All Blitz'03 videos are available at the Files/Urban Blitz '03 section of the Finnish Virtual Pilots Association web site. The videos include the WW2 veteran lectures, IL-2 Sturmovik lecture and Itmo's flight simulator physics lecture in various video formats.
DAY 1
Online reports from past Urban Blitz conventions:
Building the con... As the Lords of Flying had fated, the weather had been nice and warm earlier during the week. Then just by Friday the temperature started droppign and leveled to -20 degrees Celcius. By night - colder! This led to interesting moments when people were arriving, since we just couldn't afford to keep the doors open. "CLOSE THE DOORS" was yelled dozens of times. "There's the loading doors. Pack your things inside the lobby first, close outer door, THEN open the inner door.
The flying was to be most interesting. We had uniquely good support from the flight simulator creators, for which utmost thanks go to
Cornered Rats
iEntertainment
Targetware
Hitech Creations
All had presented us with convention accounts which were to be in extreme use while the pilots tested various other simulators they don't fly usually and checked what kind of grass in on the other side of the fence.

Finding the convention wasn't too easy either, especially if you haven't been there earlier. Lart witnesses:
I was in Tampere at noon, and Cahill picked me up from the railway station. We headed for Blitz location. We felt like being guided by some higher force, as we cruised steadily towards Blitz in Cahill's sporty Alfa Romeo. ("Was it that way? No?" "I don't know! Where are we?" "I'm totally lost..") Well - like a wonder, we found the place at the first attempt.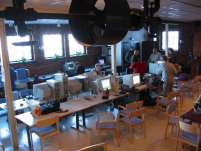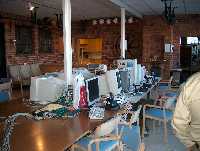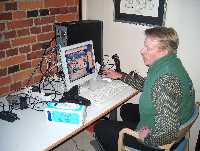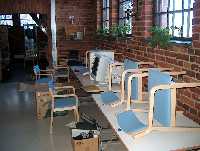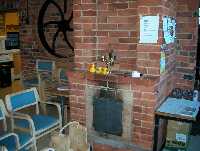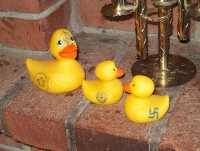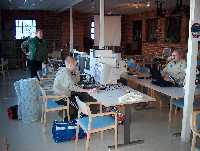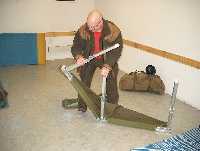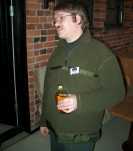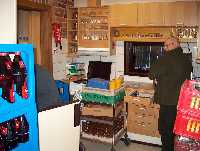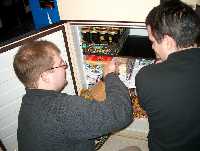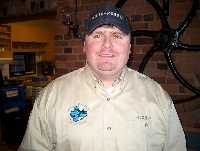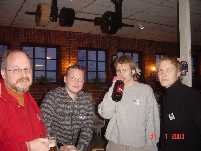 People arriving...
Lart goes on and rescues the whole convention from network blackout: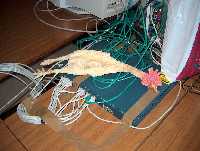 Party began to build up rather rapidly, and it felt that everyone in the crowd wanted to congratulate me and Kouhia. (We both are happy fathers nowdays) I can't even remember all the other reasons we found to toast to. (Oh - the morning was terrible)

At some stage, I had to find a solution to get the network running, as we had ran into trouble - and yes, out purchase of quality hardware (Allied telesyn AR-220E) paid off, once again. The amazing little unit took a tight grip of the balls of a misconfigured ADSL terminal and brought in a NAT layer, provided the machines with DHCP services and BANG - the network was up. Sauna, few drinks with friends at the local restaurant, and I was about ready to call it a day.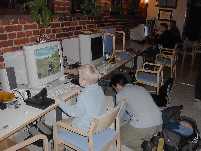 The youngest pilot in the convention.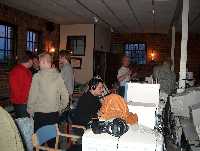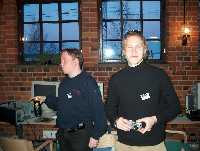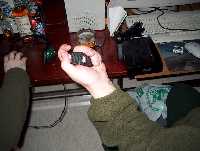 The Kuhlmey corner. A toast to all the Spitfires that will fall.

And we are slowly starting the engines and getting the con rolling!

A little sauna. It was freezing outside, as you can see from Grendel's hair.

A

visit to the local culture center on the way back to Blitz from the sauna.
DAY 2
The night begins with Itmo's lecture about flight simulator physics with OK and Lart as the guest speakers. Cosmo did the fine art in the last picture.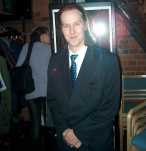 The gentleman pilot, Cosmo -=ICE=-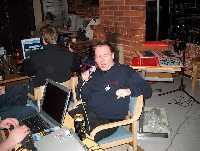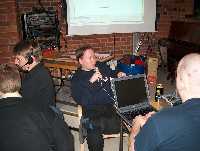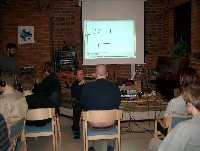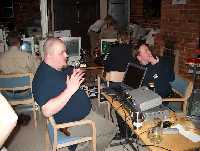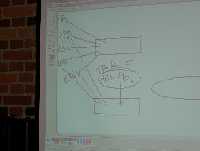 And the pilots fall down, one by one. Only the bravest stay up.
Dictonius / LLv34 must be awarded the Award for Most Persistent Cranking of Aircraft Engine of Urban Blitz'03. No matter how hard Dicto cranked his Brewster's engine, it didn't start. In this attempt Dicto was booting up his laptop to go online and flying. Unfortuantely booting took too long and the nature took its toll. Later Dicto actually got online, got his plane OTR in the hangar and then - back to the softy skies, where every plane flies straight and doesn't evade .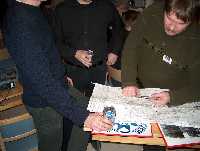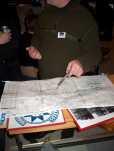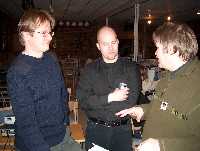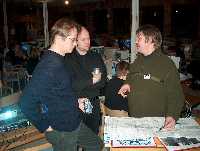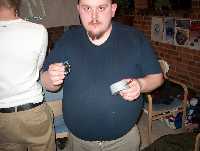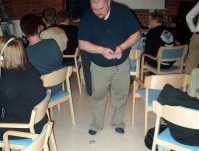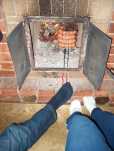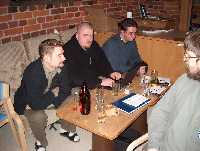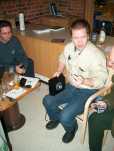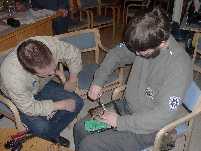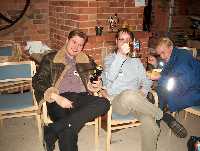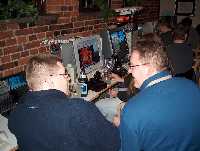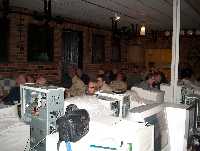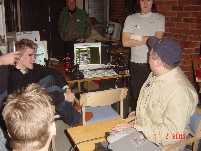 Kouhia doing magic tricks and singing a little rap song
Little videos from Kouhia's magic tricks. Don't break your neck...
PROGRAMME FOR DAY 2 BEGINS
All Blitz'03 lectures are available at the Files/Urban Blitz '03 section of the Finnish Virtual Pilots Association web site in various video formats.
Paavo Kajakoski of the Virtual Pilots history team gives lecture about the IL-2 airplane.
The signatures from the guests of honor:
Olavi Kauppila, Torsten Sannamo,
Torsti Tallgren, Kauko Aho, Erkki Pakarinen.
Erkki Pakarinen, Brewster & Messerschmitt 109 G pilot
Olavi Kauppila, Curtiss Hawk 75 pilot
Elk reports:
After the presentation, Buffalo and I were able to lure mr Kauppila to have a quick peek in WW2OL, because Curtiss Hawk H75 is modelled in there. We talked about the simulator in general, and then fired up the Hawk, showed him the cockpit area and explained the viewing system. We asked questions about the deflector gunsight and about flying with canopy open and about the ability to see from the cockpit. He said that the gunsight seems to be the same they had and that they never flew canopy open, also the limitations of viewing to 7 and 5 o'clock directions were in the sim as limited as they were in real life.

Then the all important question about the speed of a Hawk, he said that in level flight at normal operation altitudes, it wasn't more than just barely over 400 kmh.

We also gave him the opportunity to test fly the sim, but he politely declained the offer as he and the other vets were already about to leave the con.

All in all, it's always a very special moment when one is able to meet and talk with these gents.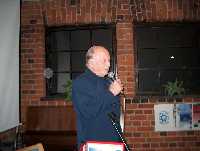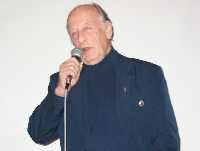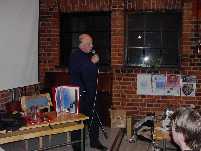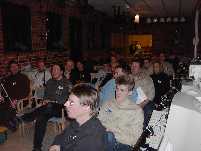 Kauko Aho, Blenheim bomber pilot
Torsten Sannamo, Blenheim bomber gunner
And the gents listening to the lectures and in other activities
Four of the vets did small speeches or lectures and we all sat there quietly listening to these gentlemen in awe. The knowledge and memories these men have must be saved for later generations, and so the recorders were on - both audio AND video.
Erkki Pakarinen, Brewster & Me 109 pilot test flying IL2: Forgotten Battles' Brewster
Flanker reports:
I saw the Brewster vet fly IL-2:FB. He was right away familiar with the cockpit but also noted some bugs in it and in the game itself

His first question about the .50cals on the Brewster was that ain't these converged and adjusted at all since the bullets were flying all over the place(dispersion). He kept a small mini lecture how the guns were adjusted and converged in the Brewster. And also pointed out how accurate these guns were. He had 3 kills in Brewster, including a La5(did not specify model).

This BW pilot had been a flight instructor too after the war and again we could enjoy a mini lecture of how to fly a plane His knowledge and razorsharp memory gave us many enjoyable mini lectures
LLv34 pilots - Camo, Wmaker and Flanker's - report about meeting mr. Pakarinen:
Erkki Pakarinen flying Forgotten Battles

by Ville "Camo" Pitkänen, Joonas "Wmaker" Konttinen and Christian "Flanker" Tampio, of Lentolaivue 34

We had the honor and pleasure to have Mr Erkki Pakarinen, a BW and MT pilot of 3 kills, try out the Brewster which will be included in the upcoming IL2 - Forgotten Battles game by Maddox Games and Ubisoft.

Erkki Pakarinen's experience as a flight instructor showed with the way he handled Forgotten Battles' Brewster. Before Mr. Pakarinen took the controls of the FB Brewster, I commended on the lack of physical feedback in PC flight simulators. It might need some getting used to the fact that it's the horizont that turns and not the plane itself. Mr. Pakarinen replied: "a pilot that relies on the physical feedback alone is a dead pilot!". As Mr. Pakarinen took the controls his extensive instrument flying experience was very evident. He flew the plane with accurate control movements relying solely on the instruments. He also told us to use counter movement for every pitching/banking maneuver which makes the flight smooth and fluent.

Mr. Pakarinen stressed the importance of instrument flying to us. He said "If you guys want to get most out of these simulators you learn to fly these planes by the instruments and with a gentle hand." This got me thinking and I asked Mr. Pakarinen if he tought these simulators we fly with a PC can really teach us basics of flying. His answer; "Hell yes!", made me smile. :)

Messerschmitt 109G

According to Mr. Pakarinen, the Bf109G was a fast, well climbing plane, that accelerated quickly and responded well to the throttle. There was "a trick" that made it turn a bit faster than usual. This was the so-called "ace move". "This was something that wasn't told to everybody", Mr. Pakarinen said with a grin on his face. In this move, the pilot turned the trim wheel about a quarter of a turn before the hard braking turn, and then back to normal trim after the turn. Usually however, the so-called pendulum-tactics (BnZ) were used. The sighting of the guns was an interesting detail. Mr. Pakarinen had his 20mm cannon shooting straight forward. Cowl machineguns were setup so that the left gun shot little high in relation to the cannon and the right machine gun a little low. This setup gave a larger cone of fire which was particularly useful in high angle deflection shooting at a turning target.

Setting gun convergence

Pakarinen told a story of a man who was attacked by an I-16 Rata during Winter War. The man was riding along a road with his horse and carriage, when the Rata showed up. The man was going up a low hill in the middle of a field, maybe a few hundred meters from a forest. The Rata approached him from behind and opened fire. The man was certain that this would be the end. The noise was terrible and the bullets kicked up the snow in huge clouds. The Rata roared past and looped for another attack. Again, the roar of the engine and bullets flying past. After the third pass, the man made it to the forest and was safe. He stopped to analyze the situation. The bullets had gone from each side of his carriage, without hitting anything. The Rata had had its wing guns aligned straight ahead, which saved the man's life.

Pakarinen went on a explained us in great detail how the guns were aligned in the BW and MT. In both planes they could be set to any convergence pattern the pilot wanted. The convergence distance varied between 50-150 meters, mostly. Wind and Juutilainen, "the tough guys", had their convergence set really short for maximum effect. Usually the convergence was set to one point at the specific distance, but sometimes a certain pattern was used. For example in the BW the left wing mg could be aimed a little high and right, the left fuselage mg a little low and left, the right fuselage mg a little high and right, the right wing gun a little left and low. Pakarinen also described a "vertical pattern", which sounded very interesting. All the mgs were aligned vertically on the centerline. This made it easier to hit the enemy during a turn fight. Even though the lowest mg might have missed from behind, the top one found its mark. The cannon of the MT was always aligned to the middle of the gunsight. The machine guns were usually aligned to some pattern, such as low right and high left.

Visibility

Visibility from the Brewster was very good. If you looked back while twisting your torso a little you could see the tip of the horizontal stabilizer. Also it was the roomy cockpit of the Brewster that helped when looking around. Visibility out of the Bf109 was more limited but you could see behind you by twisting your torso. One could see past the cockpit bars without trouble.

Flying skills

According to Mr. Pakarinen it was easy to recognize different flying styles between pilots like ones handwriting. Some were acrobatic pilots, some hamfisted and some flew very smoothly. All in all, the skill level was good and the spirit high.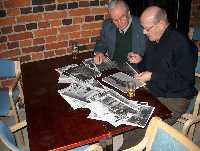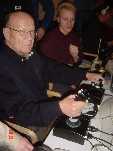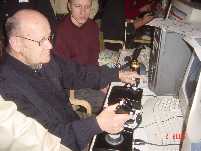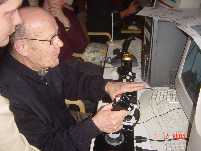 Some shots to the sleepy people during first and second nights
Lart wants to be evil:
The next day was really interesting, I managed to consentrate on interesting discussions about war history, simulation techniques, tasty sausages - and I got to fly a little too. Fellows did some really *EVIL* missions in WW2O, and I just burned to join the action - but no! I had too much stuff to carry, I couldn't bring in my computer.. Luckily Grendel had brought some nice toys for us to play with, driving around with that car and the hilarious little tank dampened the pain of not being able to join my friends in common effort.
DAY 3
BUFF DUEL REPORTS WANTED:
Tales from a Buff Duelist
As I arrived at the Blitz on friday afternoon, Harppa - old buddy - immediately approached me. I should have guessed, his short posture, friendly handshake and 1 promille smile were only an evil disguise. It turned out that he was looking for a stunt double for himself. He had been assigned as the Buff Duel organizer and was afraid that he would follow his usual pattern of previous Blitzes and Mosquitos and pass out before the duel would even start. Almost speechless, I luckily spotted our squadron's hot shot Wmaker standing nearby:
-Wideo, we're going to sign up for the buff duel!
-Errrrrrr...yes sir!
-Sorry Harppa, I'd love to, but I possibly can't cover for you, as I'm taking part in the duel myself
Phew, with the lucky escape, the Blitz continued as if nothing had ever happened. Until came saturday night - showtime. We were the first ones to go, up against Grendel and -ok--. The deal was simple. Each pair was to take off in a B17. One guy driving, the other one drin... errrr... shooting. First plane on the ground would be the rotten egg. Wmaker and I had our hopes up: we wouldn't have to fly again in the duel. Grendel and ok would surely finish us quickly, and then we could resume our usual program of drinks and chatter again. So we thought.
Wmaker and I were both quite unfamiliar with WB3, so it took a while for us to find the way to the skies, wrecking only half a squadron of heavy bombers. Finally we got airborne and headed towards the enemy. Soon enough we spotted their dot and prepared to engage. Our tactic was simple: stay below them and let them come to us. The B17 had more guns pointing up, so it was in our best interest to stay lower. Of course, this would make us vulnerable to any and all BnZ attacks, but we were certain that the enemy would not be smart enough to discover that. And so it was. As their buff came within 1k, I opened fire. It took the ammo load of a couple of gun stations until I finally got the grasp of the gunnery. But after a few bold approaches by the other guys, we noticed they were leaking all kinds of liquids. On top of that, their left inboard engine was on fire, so we decided it is time to take some separation and let the guys enjoy the warm fire by themselves. A terrible noise started from the other side of the table, they accused us of running. It turned out that WB3 doesnt model engine fire. Its just a graphical representation and it wont burn the wing off. Oh hell. Just as we turned back to engage, we noticed their B17 was awfully low. And we were skimming the trees. They had run out of fuel due to a fuel leak and crash landed. A snappy [S] for our brave opponents' souls! We proceeded to the next round.
A few hours later, the second round saw us going against Kouhia and Cahill. The duel was fast but furious. It didn't start too well for us, since these guys knew what the first of our opponents didn't: BnZ. They completely managed to bounce us, quite a feat with a B17. After the first pings had rained on us, we saw them and turned to engage. We exchanged some bullets and during the first bursts Wmaker managed to catch a .50cal shot with his head, making further control attempts futile. I was stuck in the gunner position as our B17 plunged into the ground, making a fiery mess. The duel was over for us, and now it was time for another round of drinks. [S] to the winning couple! :)
Camo www.muodos.fi/LLv34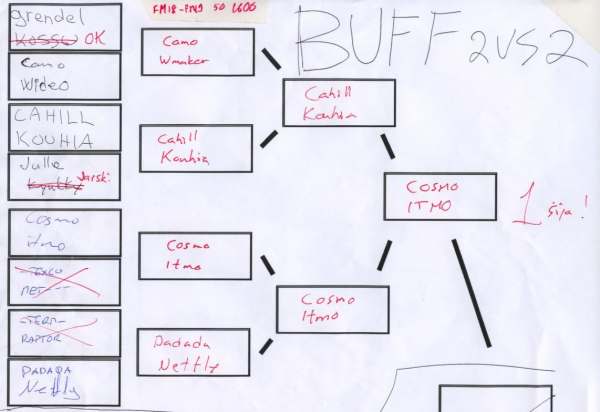 Kuhlmey Rammjäger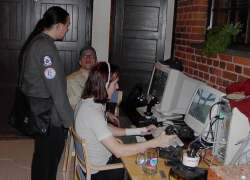 Grendel and the Rammjäger!
Behind Dada, Cosmo front.

Die Rammjäger!

The Kuhlmey squadron got a sub detachment during Sunday, when Dadada and Cosmo took off together to the skies. The episode was so utterly fantastic, so comic, that it needs to be told. If there's ever a comedy tv show about virtual pilots, this episode must be there.

T

he two pilots get OTR and prepare for start. Cosmo revs up his engines and begins rolling. Dadada starts yelling something's wrong, his engines are not working. Is the joystick broken? Someboy already destroyed his engines? Cosmo is already airborne, gear is retracting and plane is flying dangerously upside down. Dadada keeps on hassling with the plane controls and tries to find out what is wrong. Then he presses E and hears the rumble of DB engines. Cosmo's plane digs a deep hole into nearby field.

S

o the other pilot is trying to take off without engines, other is in no flying condition.

But they try again.

Now Dada is up and Cosmo tries to follow him. After a long time they both finally manage to agree in where west is. That direction sure is hard to find. Dada is following a plane he thinks is Cosmo. Cosmo tries to fly slowly to allow Dada catch up. Dada looks ahead, sees no planes. Except... What, a dot approaches fast and bypasses him. Um, what's that other dot ahead. Why no icons? Dada presses TAB and bam, icons appear. All burst into laughter. To add to the insult Dada has been following a wrong plane. Open map, compare. Ah - because Dada took off first and Cosmo later it is now quite logical that it is actually Dada ahead and not vice versa. At this phase the amount of laughter has increased substantially.

Wait some time, our heroes are in enemy territory. Lots of shouting, Cosmo already trails smoke from engine, both are fighting valiantly but are shooting rather badly. Somebody comes up with the term "Kuhlmey Rammjäger" - when they're out of ammo they will RAM the enemy. It doesn't take longer than a minute when Cosmo actually collides and wins the first annual Kuhlmey Rammjäger award. Dadada meanwhile has tangled hard with a Spitfire or two and by some miracle is still alive.

There was mucho other amusing moments but we need Cosmo and Dada to fill out, what else happened. At least once Cosmo was coming home and suddenly noticed that his right engine was already windmilling, smoking and dead, other engine "only" trailing thick black smoke. "Maybe it is time for RTB", Cosmo managed to say.

Their sorties were a big flying comedy show and the two Kuhlmey pilots are now a small organized fighting pair in Kuhlmey ranks, Die Kuhlmey Rammjäger. Their greeting - a headbutt!

Dadada explains his point of view:
Actually the episode started a littlebit earlier...

C

ause I was very happy having my new Hotas Cougar- stick with LOTS OF PROGRAMMBLE BUTTONS I wanted to the virtual skys immediately when I woke up at Sunday morning - after too short sleep and too many beers. Ok. I came to my PC and noticed that Cosmo is sleeping under the table and is using my also brand new Simpeds as a pillow??? I carefully asked him to move his head, you know, the rudder is useful sometimes. But he popped up extremely fast and asked where am I going to fly...? I was still waking up but Cosmo for sure must have been still asleep. I said that from Gilze to Antwerp to hustle around. He booted up his PC in seconds and the rest of our glorious TOD is history...
The lesson from this true story is that, if you dont want to belong to Die Rammjägers, do not program your new stick with lots of buttons when you are very drunk and don't remember what you've done in the morning - and do not wake up the virtualpilot who is using your pedals as a pillow - and do not roll before waking up and... please do ask somebody who knows where is the WEST!!!

Btw our salute HURTS ;)

Thank you all Blitz organizers and a big SALUTE to pilots who where there. Kossus choise as a whiskey was excellent.

dadada
Die Kuhlmey
Rammjäger II

And if we're talkign about amusing flying moments, let's add Grendel's finest hour. Overconfidence to the extreme. FLying 110, Spitfire in 6, waiting for good moment for evasives, "nah he's not close enough yet" and then the tracers fly. Hmm, both engines smoking, fuel leak, oil leak, maybe a time for nice evasive action. The Spitfire had to break out finally, Grendel returned home and prepared for a landing. And just in middle of landing, first the right engine died. Uuuups, put some trim, correct flight - second later the other also died. Uuuups, more trimmign, flaps up and kangaroo style landing 10 seconds later. No finesses, just I*M COMING IN AND CLEAR THE RUNWAY! '

Next some strange setups

And the last stuggles of the last day, then the convention slowly unpacks and people move out to return to the normal daily routine. Until next year, Urban Blitz at Tampere!

Lart ends his Blitz trip: Sunday morning feels always unpleasant, as then you know you have to pack up your stuff, say "bye" and know it will be months again before you see these guys again. Until then, you have to bug your workmates, relatives and friends with matters they don't either understand or are interested in. So much to say, so few meetings..


Viimeksi muokattu: 2004-02-08 19:07