---
Virtuaalilentäjät - Finnish Virtual Pilots Association Hallinportti Museum Trip 12.10.2002
Virtuaalilentäjät - Finnish Virtual Pilots Association, World War II online simulator hobbyists, travelled to Kuorevesi 12.10.2002 as the Association's autumm trip.
Place: Hallinportti Aviation Museum.
Hallinportti is actually a technical museum, run by the Finnish Air Force Aviation Technology Association. The museum is filled by great curiosity pieces, weapons, radio systems, photographs and so on - much more interesting little than you can ever imagine. And aircraft, too!
The level of participation in the trip was higher than we dared to anticipate. The Junkers Ju 52 from Tampere to Museum was crammed full of people. Many more arrived from all over Finland. In total we had 30 people from west, east, north, middle and south Finland - which was so great, as this museum was really worth the trouble. Very little known treasure cove for aviatiation enthusiasts, almost a secret which only a few seem to know about.
Our special thanks for Lieutenent Colonel Seppo Valkeiskangas and the rest of the museum staff, who kindly opened the museum doors for our Association.
---
Junkers 52 has taken off
The Junkers took off and we're on our way towards the Hallinportti museum.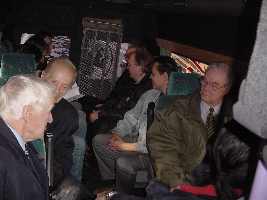 Rolling, rolling. To the Hallinportti! Front left Birger Vesoma, Kauko Aho and most right Torsti Tallgren.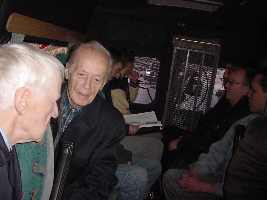 Vesoma and Aho, with little bits of My, Birra, Jochen, Aapo and Teemu visible.
---
The gents
We were very lucky and honored to have three veteran aviators with us in the trip. Mr. Aho is our association's old friend and has participated in many conventions and trips with us. We're very lucky to know him and he has been very helpful to our mission in learning about the old days of Finnish aviation. Torsti Tallgren has also been with us earlier, he visited the Urban Blitz 2002 convention and gave a short lecture about the Messerchmitt training after the wars. He hasn't been with us on our trips earlier though. Mr. Vesoma on the other hand was a completely new face to all of us. He was on same FiAF aviator course as Kauko Aho and had heard about our association earlier, but we hadn't had any contact to him previously. Even though our invitation to join the Association's trip came quite surprisingly and with short warning time he was immediately ready to spend a day with the youngsters.
| | | |
| --- | --- | --- |
| Kauko Aho, Blenheim bomber pilot. Served in PLeLv 42 (Bomber Squadron 42) during the war. | Birger Vesoma, Fiat G.50 and Messerschmitt 109 pilot. Served in HLeLv 30 (Fighter Squadron 30) during the war. | Torsti Tallgren, Messerschmitt 109 pilot. Flew Me 109 after the war 1947-1948. |
---
Boys with the toys
| | | |
| --- | --- | --- |
| Koko and his new ride, MiG 15UTI twin seated jet trainer.. | MiG 15UTI located nicely in front of the museum hangar. | Aapo, LLv 26 climbing for his MiG turn, Teemu waiting. |
| MiG-15 UTI cockpit. | MiG-15 UTI cockpit. | MiG-15 UTI cockpit. |
| Soviet quality plexiglass. Note rearview mirror and backup iron sight. | Made in Soviet union, allright. | Throttle lever. |
| Buffalo aka Penttiku / Kuhlmey and the MiG. | Lart test driving the MiG. Bolshevik ace wannabe! | Notice the gun camera above air intake. |
The MiG cockpit looks much more cramped in the photos than in real life. The photos aren't taken from the pilots' position so what you see in the pics is not what you really see. Lovely plane to fly, I've been told.
Rolling on the runways with MiG-15 was awful job. Also the pilots complained that the heating system had only two settings in practise.... "VERY HOT" or "BLOODY darnED HOT" - and of course you froze if you turned it off.
Some amazing stories from teh Finnish MiG pilots, was listening a lecture about "learning the MiGs" earlier this year. Hopefully the lecturer will visit our winter convention and do it again so we can record it. Buffalo aka Penttiku wanted to clarify about the MiG cockpit:

I also did a turn sitting in that MiG-15 UTI.
A photo does not convey the real feeling. It is not even half that bad visibility actually.
The windows are not frosted, the perspex is eroded and cracked by the the decades in unprotected sunlight.
Also, a combat equipped fighter would not have that reflector sight camera above the sight. It does much of the obscuring the view. And it was only used in trainers.
---
Aircraft hangar
Apologies but these photographs seem to show only certain fancy items and the Bristol Bulldog fighter. Those with cameras forgot to take photos of the airplanes in the hangar. :)

Bristol Bulldog was definitely one of the major stars of the day. People were heard to comment, that the trip was worth it just to sit in the cockpit. Some volunteered to stay in the cockpit whole day but were promptly removed by the next people in line. The plane is ex 1st line fighter, in use in Finnish Air Force 1935-1944. There seems to be two examples of this plane in the world.

Check six, BK !!!! LLv 34 attacks from the sun.

Camo sitting in a Bristol Bulldog. LLv34.

And JussiK in the Bulldog. LLv34.

Wmaker, guess where? LLv34.

Netfly... Not LLv 34 this time but Kuhlmey.

Lart

Look, It's Snoopy! Actually it's --my--.

Kossu watching the old warplane. The propellor in front is from the Finnish fighter VL Myrsky.

Inside the Bulldog.

Finnish "Sääski" airplane, marked with the identification of Finnish Coastal Patrol. This plane has seen actual combat - against smugglersin the 1930s!

Folland Gnat gunsight radar.

Folland Gnat gunsight radar.

Assortment of interesting powerplants.

Bf 109 engine inertia starter.

Fancy jet engines. Maybe De Havilland Gublin (from De Havilland Vampire) and Bristol Orpheus (Folland Gnat). Just a guess.

MiG gunnery training seat. The trainee sits in the chair in a room and model airplanes are dragged on thread - and he tries to shoot them down with a cal .22 rifle that is linked to the moving chair.

Klimov M-105PP engine, used in LaGG-3 and "Mörkö Morane".

Grendel and the propellor blade from Junkers Ju 88 bomber.

War booty 105P Klimov engine, repaired either in Germany or Czech and sold to Finland.

Big Eye. One lens of Fairchild built reconnaissance pod.

Self sealing fuel tank from Curtiss Hawk 75.
| | | |
| --- | --- | --- |
| | | |
| | | |
---
Closer details on some of the exhibits
Lots of great curiosity pieces!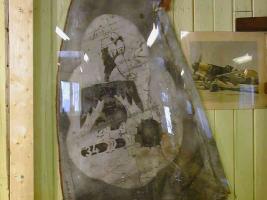 Rudder from a Messerschmitt 109 from Fighter Squadron 34 (HLeLv 34)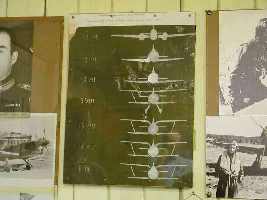 The rudder fabric from Fiat G.50 FA-1 with aerial victory markings from year 1941. The lowest I-153 belongs to Carl-Erik Bruun, others are kills by Olli Puhakka. Monoplanes painted in the rudder were I-16 "Rata's" The bomber looks like DB-3, and probably was. One of the unlucky members of the Soviet bombing squadron that tried to attack the Joroinen airfield where the Fiats were stationed. None of the planes returned.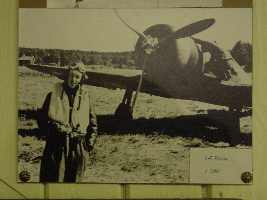 Carl-Erik Bruun, same plane.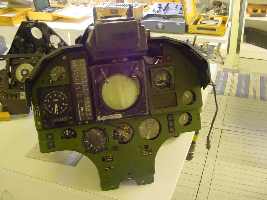 Saab Draken jet fighter's cockpit display.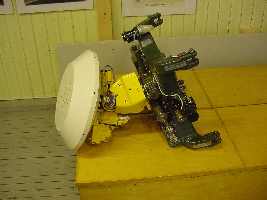 Draken's radar unit.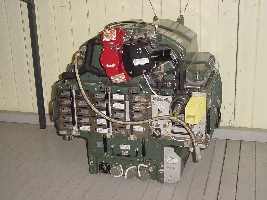 Draken's radar unit's systems.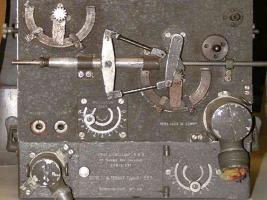 The radio from Curtiss Hawk 75 fighter.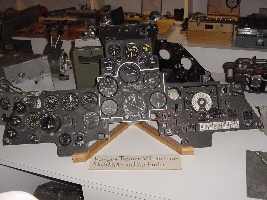 Vampire jet trainer's cockpit displays.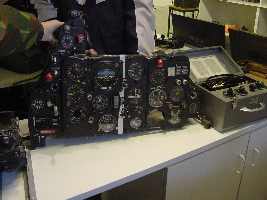 ?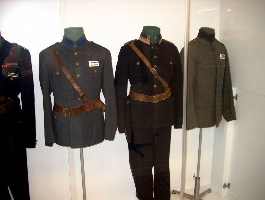 Old Air Force uniforms of Finnish Defence Forces since 1917.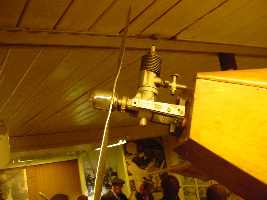 A model aircraft engine build by a FiAF mechanic student as a part of his exam, attached to a model aircraft of a Russian origin.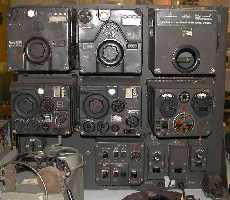 FuG 17 radio system from Junkers Ju 88
---
Mr. Aho and an old friend
Something unique happened when a small Kauko Aho, six years old, was playing outside with his other little friends. Some strange noise started coming from the sky - and a cigar like object appeared. An airship! A strange airship was travelling slowly in the skies of western Finland, towards the north. Kauko and the other kids took on their heels - and ran, ran, ran! They ran with the airship - and almost could keep the pace. But finally the airship pulled off, continuing north. That was Italian count, aviator and general Umberto Nobile - flying towards the North Pole in his airship Norge.

Years later, when Kauko was older years old he was helping in the organization of Kauhava midnight summer festival. The famous Finnish aviation company, Veljekset Karhumäki, was there offering locals to fly in their airplane. Flying at that time, 1936 or 1937, was still most rare. But Kauko managed to get enough money to pay for a 15 minutes flight - for the first time in his life Kauko Aho got his wings! It took several more years and hard work before he received wings of his own.

We recently met and interviewed mr. Aho's flight commander, Erkki Palosuo, who commanded Aho during the fatal battles of 1944. Mr. Palosuo commented about his young pilots that "they were rascals - but they flew like angels."
| | |
| --- | --- |
| Kauko Aho watching photographs of Veljekset Karhumäki's aircraft factory at Keljo, Jyväskylä. | Mr. Aho showing "Motti", a Tiger Moth waterplane - his first ever ride. |
| | | |
| --- | --- | --- |
| View trough german Goertz bombsight. | Different view trough Goertz. | And Goertz itself. |
| Grendel taking a look at the Blenheim bombsight. | The guns were examined closely. Grendel ang MG-15. | A 20mm cannon equipped BlauKreuz. (Mg151.. yes the 20mm cannon of the Bf109). The frigging cannon weights around 40 kilos so it isn't exactly easy to carry around. You need an airplane for that ;-9 |
| Kossu taking a look to MG151/20 cannon with the museum chief mr. Valkeiskangas. | Spares and tools for MG151/20 cannon. | 20 mm Hispano Suiza times two. |
| Revi C/12D sight from Bf 109. Want one! (like everybody else) | Wmaker with a Revi gunsight. | MiG-15 gunsight. |
| More bombsights. Mechanical sight used in Fokker and Ripon planes and the two bombsights used in Blenheims. | | Flags of the present day Finnish Air Force squadrons. Wonder how UbiSoft or other sim companies would like them? |
| Some airplane seats. Leftmost the seat of Junkers Ju 88 bomber radio operator / machine gunner. | Two bombsights used in the Bristol Blenheim bombers. On the right you'll see "Wimpers" sight, as seen in World War II Online sim. | British Wimperis bombsight from Blenheim. Nice use of metal. |
| | | |
| --- | --- | --- |
| Several different sticks from different aircraft, including the handle from Messerschmitt 109, Bristol Blenheim etc. | Short history of the 109s (Werke Nummer 200041) stick . | And of course everybody wanted to try it. Lart testing, Birra / VTukiLLv waiting. |
| "Where is the hat stick" Birra wondered. | Lart imagining himself into 109 cockpit. Meanwhile a real 109 pilot seems amused. | OK / Icebreakers with German Revi gunsight. |
| They actually managed to get the gunsight "running" - with the aiming rectingle visible. Watch out, Elk! | Elk making headon to Revi. | MiG-15 gunsight |
| Revi, beautiful... | Me 109 G-6 throttle stick. | Revi gunsight. |
| German Stuvi dive bombing sight from Junkers Ju 88. Superbly accurate! | Wimpers bombsight from Blenheim again. Compare the sights! | What David Bowie did in the museum? |
---
The treasure cove
Bet you don-t have these in your bookshelf! There was hundreds of this kind of books in the storage.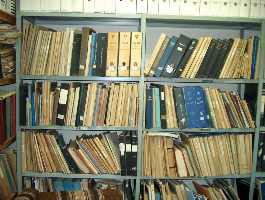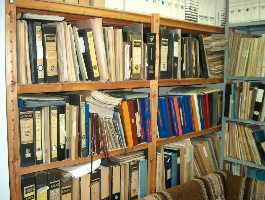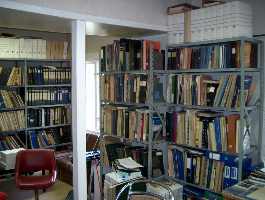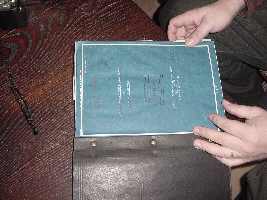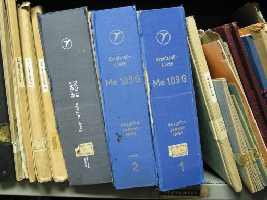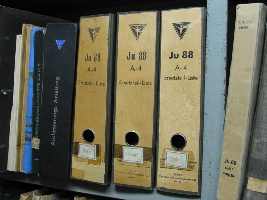 This is probably leaflet that instructs German soldiers to surrender. Apparently found from captured soviet aviator.

Document and photo of captured (or killed) soviet aviator (or other soldier). Makes you think about the purpose of war. What happened to him? Is he still alive?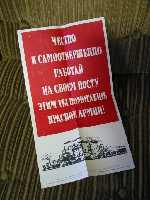 REHELLISESTI
JA UHRAUTUVAISESTI
TYÖSKENTELE
(VARTIO)PAIKALLASI
TÄTEN SINÄ AUTAT
PUNAISTA ARMEIJAA
(Work honestly and sincerely in your guard post. This is how you help the Red Army)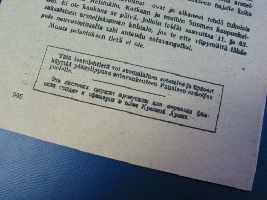 "Finnish soldier and officer can use this leaflet as ticket to priseoner of war camp on side of Red Army"
Not many finns used their free ticket.
---
(C) Virtuaalilentäjät - Virtual Pilots ry 2002
Photos by Jan "Jochen" Nousiainen, Jukka "Grendel" Kauppinen, Tuomas "Lart" Haarala, Sami "BlauKreuz" Kukkonen. Report by Jukka Kauppinen, helped by Jari "Elk" Halivuori and Pentti "Buffalo" Kurkinen.
For more historical aviation and virtual flying related stories visit Virtuaalilentäjät ry World war 2 history section and Articles and photo reports page.
If you got photos of items not shown here you may send them as email attachment to jukka . kauppinen @ jmp . fi. Any additions, captions etc are welcome too!