Kyösti "Kössi" Karhila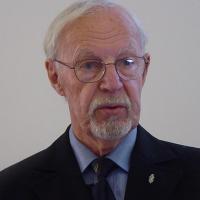 The Finnish veteran pilot Kyösti "Kössi" Karhila was interviewed in the Finnish Aviation Museum Dec 8,2001. During the meeting mr. Karhila also gave lecture about the German detachment Kuhlmey, who fought on the side of the Finns during the decisive battles of summer 1944. The interview was concluded with lenghty discussions on the coffee table.

The article is completed with the interview done by Ossi Juntunen on 1988, which was so complete that we ignored the topics already handled there and spoke about differents matters. Mr. Juntunen's interview is included in this article by his permissions. Originally it was published in the WW II Ace Stories -page.

All the texts in this interview have been proof read, corrected and accepted by mr. Karhila.
Part I: Ossi Juntunen's interview from 1998.

The beginning of mr. Karhila's career, the war starts, first aerial victories, to Messerschmitt squadron, after the war, career as civilian pilot, other questions.

Part II: interview by Virtual Pilots 8.12.2001.

Most memorable aerial battle, Soviet pilots, the most satisfying airplane, Messerschmitt and Curtiss fighters, training and mental preparations, transfer to Messerschmitt squadron, under enemy fire, adventure of Kronstadts, Russian planes under close inspection, the daily life of Me pilot...

Part III: - Café discussion with Kyösti Karhila 8.12.2001

Young man as fighter pilot, False barns in Kauhava air base, Recognizing enemy planes, shooting down Mustang, Hunting a Pe-2 with the Curtiss, About the odd performance characteristics of the Curtiss Hawk, Messerschmitt 109 and flying her, About the differences of Messerschmitt 109 G2 and G6, weapons, IL-2 rear gunners...
Kyösti Karhila introduces himself -video clip. Mpeg, size 1,3 MB.

Kyösti Karhila, born 02.05.1921 at Rauma
Flight training: Joroisten kurssi, Military pilot's course 1 (Sotaohjaajakurssi 1)
Units: T-LeLv 35, 18.3.1941 LeLv 32, 20.4.1943 LeLv 34, 6.3.1944 LeLv 30, 15.6.44 HLeLv 34, 30.6.44 LeLv 24, 21.7.44 HLeLv 30
Plane types: Fokker D.XXI, Curtiss Hawk 75, Messerschmitt 109. Flight hours 556 during war, 24 000 as civil pilot.
Decorations: Cross of Liberty 2rd Class, Cross of Liberty 3rd Class, Cross of Liberty 3rd Class with oak leaves, German Iron Cross 2nd Class, French Black Star Medal of Knighthood.
Occupation: Airline pilot, superintendent of aerial activity.
Founding member of Finnish War Pilots' Association Pilvenveikot and chairman 1980.
Kyösti Karhila's aerial victories
CU=Curtiss Hawk 75 MT=Messerschmitt 109 G-2/G-6
Date
Plane
Location
Target
1.8.41
CU-502
Jaaski
1/3 balloon
10.8.41
CU-567
Kirvu
1/2 I-16
13.8.41
CU-561
Kirvu
1/2 I-153
18.8.41
CU-570
Sintola
1 I-153
3.9.41
CU-566
Kuokkala
1 I-153
17.9.41
CU-552
Siestarjoki
1 MiG-3
19.9.41
CU-560
Ohalatva
1 MiG-1
15.6.42
CU-560
Mergino
1 Yak-1
28.6.42
CU-560
Vitele
1/2 Pe-2
5.7.42
CU-560
Sampotuksa
1 I-16
21.8.42
CU-560
Lyugovitcha
1 I-16bis
29.9.42
CU-571
Saarimaki
1/2 Pe-2
9.11.42
CU-571
Mulberskoye
1/2 MiG-1
9.11.42
CU-571
Yla-Sotkusa
1/4 Pe-2
9.2.43
CU-560
Saarentaka
1 Pe-2
11.2.43
CU-560
Savijarvi
1/2 LaGG-3
11.2.43
CU-560
Novinka
1 LaGG-3
11.2.43
CU-560
Malkjarvi
1 U-2
4.5.43
MT-214
Ino
2 Lagg-3
21.5.43
MT-224
Lavansaari
1 La-5
19.7.43
MT-224
Poytsaari
1 Pe-2
20.8.43
MT-229
Seiskari
1 La-5
28.5.44
MT-403
Kuusalu, Estonia
1 Pe-2
21.6.44
MT-405
Tienhaara
1 IL-2
30.6.44
MT-436
Perojoki
1 Yak-9
1.7.44
MT-461
Teikarsaari
1 IL-2
3.7.44
MT-461
Portinhoikka
1 IL-2
4.7.44
MT-460
Vatnouri
1 Mustang
5.7.44
MT-461
Tuppuransaari
1 Yak-9
7.7.44
MT-461
Vatnouri
1 Mustang
9.7.44
MT-461
Kyla-Paakkola
1 IL-2
10.7.44
MT-461
Terhonjarvi
1 La-5
10.7.44
MT-461
Uusikyla
1 Yak-9
11.7.44
MT-461
Hirvisaari
1 La-5
16.7.42
MT-460
Ritasaari
1 Yak-9
18.7.44
MT-460
Malkola
1 La-5
18.7.44
MT-460
Kyla-Paakkola
1 La-5
Source: Suomen Ilmavoimien historia 11: Hävittäjä-ässät Kari Stenman / Kalevi Keskinen (Apali Oy).
The interview was carried out in Finnish Aviation Museum on Dec. 8 2001. The interview is in its original form. The "coffee discussions" have been edited by moving similar topics to each other's company.
Interview at Westend 1998: Ossi Juntunen
Interviews 8.12.2001: Jukka O. Kauppinen "Grendel", Pentti "Buffalo" Kurkinen, Timo "Kossu" Niiranen and Janne "Netfly" Kallela.
Recording: Jukka O. Kauppinen
Proof reading: Jukka O. Kauppinen ja Timo Niiranen
Typing: Marko "Maqu" Salo, Paavo Kajakoski.
Photos: Kyösti Karhila and Jukka O. Kauppinen

Copyright VLeLv Icebreakers / Virtuaalilentäjät r.y. / Finnish Virtual Pilots Association 2003.