---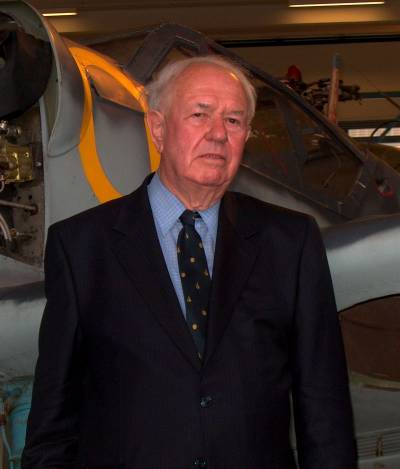 Wing Commander Robert "Bob" Foster in Finland June 2004
Preliminary report
Aviation Museum Society, Finland arranged again a visit by a foreign veteran pilot to Finland. Thanks to the Society, the British gentleman Wing Commander Robert W. Foster, DFC, AE, gave two lectures, first at Tikkakoski, second at Vantaa.
Wing Commander Foster was born in year 1920. He saw the clouds of war rising over the Europe, and decided to join the Royal Air Force Voluntary Reserve in January 1939. Mr. Foster described, that he didn't want to go to the trenches, but while the death in the sky was still possible, it was at least a more glorious way to go.
He flew a Hurricane fighter in the Battle of Britain and was a pilot trainer after that, processing some 100 pilots. He was then transferred to the 54th Squadron, who flew the Spitfire fighter, and in 1942 was sent as reinforcements to Australia. Located at Darwin mr. Foster fought against the Japanese. FInishing his 2nd tour mr. Foster then joined the Normandy invasion in ground duties.
In the war mr. Foster was credited with 9 aerial victories and he retired from RAF in 1947, returning to his pre-war workplace Shell. He retired from Shell in 1975.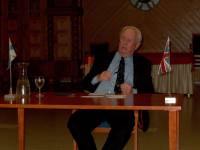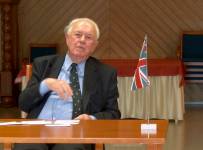 Wing Commander Foster mentioned several times how lucky he was in the war. He flew his first flight on the Hurricane in June 6th in 1940 and when Battle of Britain started he had total of 40 hours in the type. However he was sent from training squadron into the 605th Squadron, which was located in Scotland. There he got additional 40 hours in Hurricane, which was vital when the squadron was moved south near London in September. Yet, in the squadron's first combat mission a New Zealander, who had been in RAF for past 3 years training for this, was shot down before 12 o'clock in the first day, and wounded so severely, that he never flew again.
Sometimes they flew 2-3 sorties a day, sometimes none.
"You go in, hit hard, you get out." "You don't hang out. You can't relax at all", Wing Commander Foster described. If you relaxed and didn't keep sharp you might die. He described how he was once on a mission over the North Sea and could only think of a breakfast, as it was so early. He was just flying, thinking of food and happened to look around - noticing a Heinkel 111 rising out of the clouds right behind him. Quick evasion - machine gun tracers passing where he was - and the Heinkel goes back hiding into the clouds, getting away. Luck, again.
The full transcript of Wing Commander's Foster lecture and my interview will appear to the Finnish Virtual Pilots Association web pages when time allows.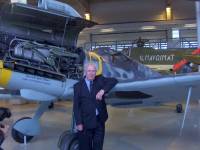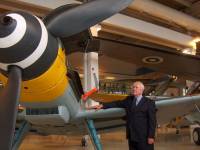 Spitfires Over Darwin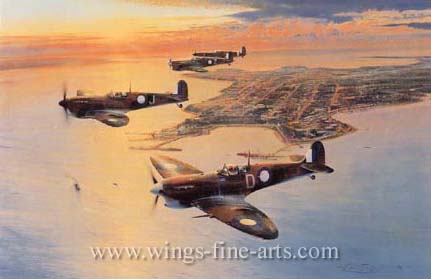 Artist: Robert Taylor
Title: Spitfires Over Darwin
The bombing of Darwin by Japanese aircraft shortly before 1Oam on the morning of 19 February, 1942, brought the northern region of Australia directly into the war in the South Pacific. The surprise attack caught the Royal Australian Air Force with only a handful of Wirraway trainers and a squadron of Hudson twin engined bombers to defend the Northern Territories, and a Japanese invasion looked a possibility.
Fortunately the USAAF 49th Group were transiting through Darwin at the time, en route to Java and, flying their P-40E fighters, they were able to hold the line until 77 Squadron Kittyhawks arrived to defend the 'Top End' in the latter part of 1942.
At the time Australia's only Spitfire squadrons were operating successfully in Europe as part of RAF's 11 Group, but Churchill, recognizing the Japanese threat to Australia, despatched three Spitfire squadrons to Darwin in the Northern summer of 1942. Simultaneously a group of talented young Australian pilots returned home from service in North Africa and Malta to join the newly formed Wing.
Number One Fighter Wing, known as the "Churchill Wing", became operational in January 1943, scoring their first victory on 6 February. Shortly after on 2 March, the Wing's Spitfires led by the legendary Wing Commander Clive Caldwell came up against Zeros - the first time the two types had met over Australian skies. The Spitfire pilots immediately took the upper hand, bringing down two Zeros without loss - a portend of what was to come.
These early encounters were the start of what became a highly successful air defence campaign, and by the end of the year the seasoned fighter pilots of No 1 Fighter Wing had gained total air superiority, and had claimed over 100 victories. The Japanese withdrew and the attacks of Darwin ceased.
Robert Taylor's beautiful new painting, dedicated to the Spitfire Memorial Defence Fellowship, depicts the Mark Vc tropicalised Spitfires of No 1 Wing RAAF returning from a Scramble over the city of Darwin in early 1943. Flying in loose formation the pilots are able to admire for a few glorious moments the spectacular sunset above the coastal waters of the South Pacific.
Commemorative prints from this specially publishededition are signed by distinguished Australian fighter pilots who flew both in Europe and in defence of Australia during World War 2.
The Signatures:
Wing Commander BOB FOSTER DFC - Flight Commander 54 Sqn.
Flight Lieutenant TED HALL - Flight Commander 452 Sqn.
Chief Test Pilot ALEX HENSHAW
Flight Lieutenant DON MACLEAN DFC MID - Flight Commander 457 Sqn.
Source: Wings Fine Arts
Many thanks to the people of Aviation Museum Society, Finland for arranging this great event and to mr. Foster for coming to Finland.
---