Urban Blitz 2002
Tampere 1.-3. February 2002
The famous Urban Blitz, the winter edition of the Nordic Euro Convention Mosquito Meeting. Arranged in urban conditions, with modern computers by positively insane Virtual Pilots.

The traditional 5th annual Blitz is arranged by VLeLv Moosefly virtual squadron, in sake of Virtuaalilentäjät / Virtual Pilots Finland ry.

If you weren't here with us, you must be feeling sorry. We had a blast, and in this page is some proof of that. Remember that there is always the next year, and it seems that these parties are getting bigger and better every time.

Urban Blitz on suomalaisten virtuaalilentäjien talvitapaaminen. Järjestetään Mosquito Meetingistä poiketen urbaaneissa olosuhteissa, samojen ilmailuun ja tietokoneisiin vinksahtaneiden sällien toimesta.

Tapahtuman järjestänä toimii Virtuaalilentäjät ry, pääasiallisina vetina VirtuaaliLentoLaivue Moosefly. Tapahtuma järjestetään nyt viidennen kerran.

Preface

Urban Blitz 2002 started and what a convention it promised to be. More people and more computers than ever in the Finnish conventions. And THIS was supposed to be the small winter convention - and our expectations of visitors jumped way up - almost 50 people arrived to spend three days talking about flying!

Soon Communications company had sponsored us a 2 MB ADSL line. There was some problems initially getting it work but then everything was totally smooth. Oh, the joy of fast Internet connection. In the end 27 computers were plugged in and the flying was really good. WarBirds 2 and WarBirds III were the most used simulations, with Aces High and IL-2 coming as good 2nd and 3rd. Quite a few were also flying and loving the World War II Online, with RaimoK coming as always loaded with European Air War.

And so it begins..



Videos
Joppe Karhunen, Finnish WW2 fighter ace joined the heavenly airforce recently. Burial was held today. Four Finnish Airforce F-18 Hornets made a flyby in a diamond formation, one of the fighters rocketed up into sky from the formation over the church. A delegation from the Virtual Pilots society attended the burial ceremony, and escorted Joppe in his last flight. The society had prepared a basket of flowers with thanks "To Colonel Karhunen, who was a great inspiration to us all". Farewell, Joppe.
People gathered into Blitz site slowly during the day. Assembling the computers and building the network was interrupted by joyful sightings of old virtual friends suddenly materialized into flesh and bone. Experiences were exchanged, different kinds of computer hardware were compared.
Finally.. Enter the sauna!
20:30 EET an alarm was sounded, and announcement was made:
"SAUNA 30 MINUTES WARNING. TAKEOFF 15 MINUTES". And then we rolled. Around half of the blitzers prepared themselves and launched to the sauna mission. About 500 meters from the Urban Blitz 2002 place was a very legendary place - the oldest public sauna in Finland (became operational on year 1906), known for its sweet, hot sauna feeling and excellency. Unfortunately the rocks had gotten somewhat cold but therefore we got in for free, so no probs. It was quite good, not great, but that changed next day. Still, as you can see from the photo, we enjoyed ourselves. Also - we heard quite a surprising thing. Somebody had told the people upkeeping the sauna that a lot of people are coming to eat and drink - "so make borsch-soup for 30 people". Heck! Borsch for all!
As you can see from the photo on the left, it felt very good to hop outside between sessions in the sauna. Hey, it was only like +70..80 Celcius hot inside and about -20 Celcius of mild chill outside, just a minor 100 Celcius difference. Wonder why the guys are steaming? After washing the dirt off and enjoying some Borsch soup some pilots made a refueling stop in the local bar Pispalan Pulteri. Local atmosphere was certainly interesting at least. Unfortunately the billiards table was reserved so we couldn't enjoy a fast game of Crud. The staff even would not reserve the table for next night. D'oh!
After the sauna, people washed their teeth and went to sleep like good boys should -- NOT!
And then we did some singing...
Check the choir videos!

HOUSE OF THE UBERFINNS

There is a bunch of madman
they call them Uberfinns.
And they've been the ruin of many poor con.
Oh God I know I'm one.

They all are drinking FPO
and claim they like it too.
NUTELLA is their favorite food
and yes, they're flying nude.

The only thing an Uber needs
is a Blitz and FPO.
The only time he's satisfied
is when he's on a drunk.

------ organ solo ------

Oh grendel, tell the newbies
not to do what we have done.
That's to fill your head with FPO
and join the Uberfinns.

When morning comes, the Uberfinns
are lying on the floor.
Oh please, bring more FPO
for one is moving still.

There is a bunch of madman
they call them Uberfinns.
And they've been the ruin of many poor con
Oh God I know I'm one.

JUNKERS 52

Rollin' Rollin' Rollin'
Keep those Junkers rollin'
Rollin' Rollin' Rollin'
Kossu keep on rollin'
Try fly!

Rollin' Rollin' Rollin'
Though the cons are swarming..
Keep them Junkers rollin'
but why!

Spits and 'stangs are waiting
I know they're salivating
Wishing I was sitting in my Frantz
Eight drunks have I with me
all are drinking whiskey
and puking at the end of my ride.

Chorus:
Head em' On,..... shoot em' up,.......
Shoot em' up,..... Head em' On
Head em' On,..... shoot em' up,.......
Try hide!

Throw em' out,..... dive em' in,.....
dive em' in,.... Throw em' out,
Throw em' out,.......Drunks are ....
falling down!.....

(continues)

Keep movin', movin', movin'
Though cons dissaprovin',
Keep them dweebies shooting
us down!

No need to out'dive them,
just grab the gun and kill em'
Soon they'll be burning in the sky.

My mouth calculatin'
The cold beer will be waitin',
Be waitin' at the end of my ride.

Chorus:
Head em' On,..... shoot em' up,.......
Shoot em' up,..... Head em' On
Head em' On,..... shoot em' up,.......
Try climb!

Throw em' out,..... dive em' in,.....
dive em' in,.... Throw em' out,
Throw em' out,.......is that hill ....
too high!.....

Chorus:
Head em' On,..... shoot em' up,.......
Shoot em' up,..... Head em' On
Head em' On,..... shoot em' up,.......
We hide!

Throw em' out,..... dive em' in,.....
dive em' in,.... Throw em' out,
Throw em' out,.......Junkers ....
FiftyTwo!.....

Rollin' Rollin' Rollin'
Keep those Junkers rollin'
Rollin' Rollin' Rollin'
Kossu keep on rollin'
Fly high!

FLY HIGH!
Publicity! A local newspaper thought us interesting enough to leak some information to public, and below is the whole scanned story. No translation to english, sorry.
The Guests
The Blitz organizers had invited members of the Pilvenveikot association to visit the virtual pilots in the Blitz convention. Pilvenveikot is the club of the Finnish war pilots, and can be loosely translated as Fellows of the Clouds. The first visitor, mr. Lauri Väisänen, arrived around 1400 and the rest came after 1500.
The guests:

| | | |
| --- | --- | --- |
| Lauri Väisänen | Fiat G.50/Fokker D.XXI pilot | Chairman of the Tampereen Ilmasilta |
| Torsten Sannamo | Blenheim bomber gunner and radio operator / Bomber Squadron 42 | |
| Kauko Aho | Blenheim bomber pilot, Bomber Squadron 42 | |
| Torsti Tallgren | Messerschmitt fighter pilot, Fighter Squadron 23 | |
Mr. Sannamo and Aho were war pilots, Väisänen was trained to pilot during wartime but his course didn't get into battle and Mr Tallgren was trained to Messerchmitts after the war. An interesting fact was found during the evening - mr. Sannamo had flown four missions as rear gunner in Kuhlmey's Stukas in summer 1944 as well! Well you always learn new things.


Saturday's program included three speeches or lectures, whatever you want to call them.
First Grendel took some papers and described how the online flying culture formed in Finland. And shortly put, the Air Warrior simulator gained quite a following in the 1994-1995, with the first Finnish online squadron Rednose Reindeers forming. Rednose Reindeers later changed to Finnish Air Force, and moved to Air Warrior USA. Came Confirmed Kill, the community was forming nicely and so it goes, we are here today more numerous and active than ever.

The second speech was by the WW2 veteran Torsten Sannamo. Mr. Sannamo talked about his days of war, both of the fun and good bits, and the bad bits. The speech was most interesting, and the whole Blitz audience was dead silent drinking his words and tales. The speech will be available later.

The last speech followed right away, when mr. Torsti Tallgren, the Messerchmitt pilot, referred back to his days in the stick of the Messerchmitt 109 G-6. Tallgren learned the trade of the fighter pilot right after the war, flying in Fighter Squadron 23 at Rissala, Kuopio. Those were interesting days - they had 10 young pilots as trainees, with 10 experienced war pilots as teachers. The squadron had as many as 40 Messerchmitts and there was no ratios in fuel usage. So they flew - a lot. The teachers were very good, and everything they taught was learned in actual battle. Tallgren told about the training program, what kind of tactics and maneuvers they were taught and so on.

"As old Messerchmitt pilot it has been very pleasant to be here. I can really sense a real aviation spirit here, a spirit that has been and will be very important." --Torsti Tallgren, Messerchmitt pilot
The visitors stayed in the convention for quite a long time, and interacted rather thoroughly with the virtual pilots. Many of the blitzers had never met an actual war/Messerchmitt pilot before, and some used the opportunity to the fullest extent. The chatter was active and loud. Gents were shown different simulators, and let try them. We of course let the Blenheim gents to look and test World War II Online's Blenheim, and mr. Tallgren flew Messerchmitt 109 G-6 in both IL-2 and WarBirds III simulators. Aho and Tallgren gave very interesting commentary about the simulators. Both liked what the simulators looked like, but were unconfortable to the difference in visual feeling - "in real plane the horizon and the world stay in same place, and you and your plane move around. In these simulators it is completely opposide - the world and horizon move and your plane and cockpit stay in same place." More about their tales later.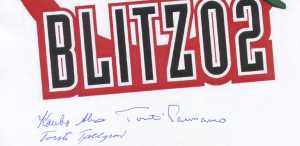 Signatures of the visiting gentlemen.
Sauna - the 2nd invasion
Most of the people launched into sauna in saturday and this time it was really, really hot. Extremerely hot and great. People enjoyed themselves to the fullest and also visited the cafeteria - and ate all the borsch soup!

Some of us made a brief (and some not so brief) visit into famous local pub, Pulteri. Atmosphere in there is unique in its own way, a truly local pub in the unique area of Pispala, Tampere.
Plane identification quiz was held, and here is a list of happy winners:
| | | | |
| --- | --- | --- | --- |
| Placement | Callsign | Score | |
| 1st place | 1WMAKER | 15/20 | |
| 2nd place | MURMUR | 13/20 | |
| 3rd place | JARRU | 9/20 | |
| 4th place | OK | 8/20 | |
| 5th place | LART | 7/20 | |
List of the planes was from RAF plane silhouette regocnition competition from year 1943. You never know when you need these skills, better stay sharp..


Morning hours, long and extremerely slow. The sleeping room is completely filled. You just can't move around without stepping on someone. And the noise; five guys snoring, making noise that only a tank company roving could supress. Oh those poor souls who are stuck in their mattresses and can not run and escape.





Stukas are attacking Britain. Ack is destroyed. Harbour AA is shooting. A hurricane crashed. A target fixated enemy fighter was gangbanged by 2 Stukas. You can tell that a mission is going on. Pilots are fighting in the WarBirds 2 War Room -arena, and attacking west to conquer Europe. Meanwhile no-one is able to fight the last semifinal combats of the bomber duel. Two persons manning a bomber, one as pilot and second as gunner. Together they face another bomber with similar crew. The fighting has been hard and noisy, and the final fights are still to be seen. Tomorrow will be interesting....

The War Room action from the other side
Yesterday afternoon was a hell of a lot of fun.
My single regret was that we were not able to give the Finns the show they gave us. At number of times in just a couple hours our flight of 3 or 4 Fighter Defenders encountered flights of 8+ 109/190's escorting 110's, or, three 8+ flights that appeared to be unifom Stukas. Plus a number of smaller fighter to fighter and bomber to fighter encounters.
The Ju's were easily the most fun for a couple of reasons. Of course, one of the reasons is that they're so much fun to shoot, but the larger reason was how they appear, in the game. We were just leaving Britain, over the channel when we spied what looked like flak, coming our way over the French coastline, a minute later it becomes obvious that this is a flight of, 8+ Ju's!
And man oh man was it fun to be followin' Neil's spastic ass into a formation and watch all the bombs (click,click) drop off the wings of the Ju's or the 110's as they turned to meet us.
A lot of fun, I hope it was a positive experience for some of the guys that hadn't tried the War Room much from the Finn's side.
Mury, one of the War Room regulars
Sponsors