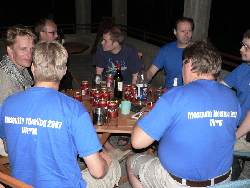 The best amusement of the last night was offered by Dadada, that Rammjäger, who challenged WidowMaker to a duel. The powers that be decided it will be fought with Spitfire Is and the action was rather... Amusing. Wmaker won, he had absolutely no other chance after Dadada's definite resolution. After the duel Cosmo challenged WMaker to another round, this time the planes were IL-2s. Another kill to WMaker.

The monkeyman of the convention was clearly OK, who we can see here climbing to a rather high tree, trying to rescue Grendels' RC plane. While Cosmo's RC plane had so far landed to two different trees, this landing happened extremerely high and after initial attempts we had already given up the hope for the rescue. But OK grabbed his flight suit and up he went.... Our hero!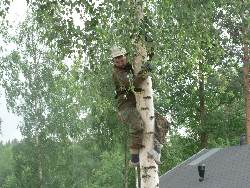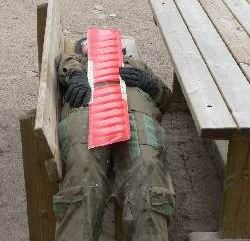 And now it is time to close the Mosquito Meeting channel to this photo, that sums it all up. Till next year!