Report
Prelude
Kill number 1: Bob "Mouse" Shaw's nose (playing Crud)
Kill number 2: Chain's arm (armwrestling)
Kill number 3: joystick (flying)
Kill number 4 and 5: who will they be and when?
Videos from the convention:
links here
Day 1
Travelling to and helping to build the con. Grendel and Cosmo happened to stumble to the Mosquito Meeting 1997/1998 location at Menkijärvi on their way. At the con place the youngsters, like Mangrove, were put into useful work.

Start it up, someone could say. DJ Cosmo gave a gig, too.
Our father and son combination: Olli and Maumau, both from the WarBirds JG3 squadron.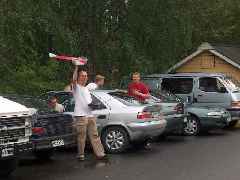 Day 2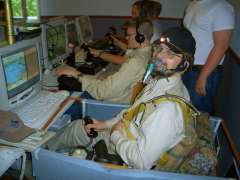 All right. OK has finally lost it...
Battle damage. A 7.5 mm machine gun bullet struck OK's cockpit side plane penetrating it just a few cm away from the pilot. Close one!
Some of us visited the ship MS Alpo, the tug that travelled all the way from Oulu to the Normandy invansion 60 years celebration. MS Alpo was built in New York 1943 and participated in the actual invasion.
After that was the Finnish Virtual Pilots Finland annual meeting, convention went on and some of us went flying for real.
Convention place from air.
Stuka pilot Penttiku (right) and his gunner Neito (left). Deadly combination.
Of course there was some RC flying, with Cosmo and Grendel bringing their RC planes to the convention. Planes flew both in day and in the bright night skies on the beach. Heroes of the day were Colt, Cougar and especially Mangrove, who helped to rescue Grendel's plane from a tree related distress.
Day 3
We were also honored by the visit of two local WW2 Air Force veterans, Aarne Vuopohja (with beard) and Tapani Elo (no beard nor hair).
Day 4
LLv 34 pilots felt more comfortable flying with less clothes during the night. I wonder what their own squadron meetings are like...

And finally in the hours of Sunday it was time to pack our stuff and begin the long journey back home.

Cheers to the three LLv 34 pilots who travelled all the way from Denmark to the Mosquito Meeting!
---
Special thanks for Mosquito Meeting 2004 go to:
Lart - for arranging the happening
Korva - for the veteran connection and transportation
Tazle - network and bug hunting
Maqu - for audio equipment and movie screen
OK - for firewood and misc stuff
Cosmo - for bringing the video projector
And all those good people who helped in building the convention and kept it going
Photos in the article: Cosmo, Grendel, Mangrove, Mipoikel