---
Sotakentät - Finnish Wartime Airfields
A Google Earth Project
Suomeksi:
Tällä sivulla on Virtuaalilentäjät ry:n työstämä "Sotakentät" -karttaprojekti. Kyseessä on ilmaisella Google Earth -satelliittikartoitusohjelmistolla toteutettu kartasto Suomen Ilmavoimien sotavuosina 1939-1945 käyttämistä lentokentistä. Lisäksi koordinaatistoon on merkitty saksalaisten, ruotsalaisten vapaaehtoisten sekä Neuvostoliiton käyttämiä lentokenttiä.
Google Earth -ohjelma on saatavissa PC- ja Mac-tietokoneille. Jos sinulla ei ole ohjelmaa ennestään, hae ja asenna se täältä. Ohjelman asennettuasi klikkaa alempana olevaa "Wartime airfields - Google Earth datafile" -linkkiä, jolloin kartasto avautuu suoraan koneellasi olevaan Google Earth -ohjelmaan. Ohjelman käyttö vaatii avoimen internet-yhteyden.
Voit ottaa meihin yhteyttä, jos haluat auttaa projektissa esimerkiksi tarkentamalla kenttien sijainteja, täydentämällä tietoja kentistä jne.
In English:
This is a project make a reference of Finnish airfields used by Finnish Air Force during the wars between 1939-1945, namely the Winter War, Continuation War and Lappland War.
The Wartime Airfields project also includes airfield data about ice fields, airfields used during the temporary peace 1940-1941, airfields used by Swedish volunteer unit F.19 during Winter War, airfields used by Germans and Russian airfields.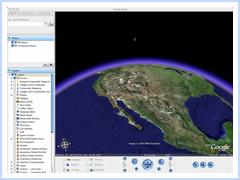 The project makes use of the free satellite mapping program Google Earth, provided freely by the Google corporation. You can download the software here. Google Earth is *free* and available for Windows and Mac OS X operating systems. Using it requires an Internet connection, because the program itself is very small. It fetches satellite data of different areas when user zooms into the map, and downloads the map data.
Credits
The Finnish Wartime Airfields project is managed by Martti "Mangrove" Kujansuu.
A similar airfield reference by an unknown author was great use.
Other contributors have been:
Olli "Ok" Korhonen
kuhna+++
Timo Aalto
Kanttori
Jukka Nisula
---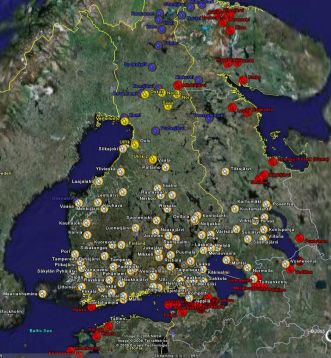 Important: this is only a sample picture and does not represent the current version of the project. Please download the Google Earth datafile and use it.

Lataa Sotakentät-kartasto
Download Wartime airfields - Google Earth datafile
Version: 2006.11.24

The Wartime Airfields Google Earth datafile is free. You can download it and use in any way you wish.

Would you like to help?

Help us 1: airfield locations

Did you spot errors? Do you have information about the airfields? Do you know locations and names of Soviet airfields used against Finland/Germans during 1939-1945? Locations of Soviet airbases in the Baltic, that were used in Winter War? We some the rough locations of several fields, but they haven't been added as the exact location is not yet known.

Easiest way to send corrections or additions is to create Google Earth datafiles of single airfields or combine all additions/corrections same datafile, and send that to us.

Help us 2: airfield information

We'd like to add information to each datafile about the use of that field. Which squadrons operated from it. When was the field in active use? War is a "front line field", training field, ice field or what? Any peculiarities? Any details?

If you can contribute information, it must be in English. No novels, the datafiles are pretty short.

Help us 3: airfield photos

We can add a photos to the Google Earth datafile. If you have a photo we could use, we'd be grateful. Take notice: the photo MUST be legal for us to publish. You must have the copyright or permission from the copyright holder to present the photo to us, or the photo must be in public domain.

Who to contact?

Please send locations, information or photos to Martti Kujansuu, the project manager. You can reach him by email at mkuja.mbnet@fi. Please replace the first dot with @ and the @ with the dot. Spam protection, we're sorry. You'll be credited if your information is added to our reference.

Examples of the Wartime Airfields reference: Finnish and Soviet airfields at Karelian isthmus, Finnish, German, Soviet and Swedish airfields in Lappland:

Nurmoila, Suur-Merijoki and Vesivehmaa closeups:

Last modified: 2006-11-24 14:56